How can I make additions or changes to my work?
More questions? Search here:
How can I make additions or changes to my work that only affect the title, playing time, instrumentation, language and genre?
For this purpose, we provide a service for your GEMA original works with registration status 1 in the online portal, which automatically processes your additions and changes within one working day.
1. For these changes and additions, go to
My repertoire
in the Dashboard and select your work for which you want to make changes.
2. In the selection menu (3-point menu) click on Change work declaration

and select
Supplementary work details
(title, duration, instrumentation etc.)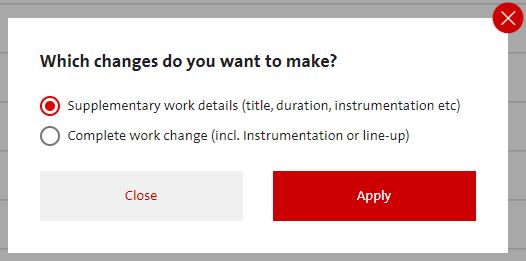 3. The screen
Work data
provides you with the following options:
Change work title
Add, change or delete duration
Add, change or delete genre
Add, change or alternative title(s)
Add, change or delete instrumentation
Add, change or delete language
4. Once you entered your changes, you receive an overview of your work changes or amendments. The original data that you corrected or deleted will be shown in strike-through mode. Finally, just as you do for every work declaration, you need to confirm your changes and submit them.
5. In your portal mailbox, you get a confirmation of receipt with the registration number and the data you transmitted.
6. Once the data in your work have been automatically changed, you and all other GEMA members involved in this work will get a notification regarding to the changes of this work.
7. For any amendments to works with registration status 2, please continue to use the existing
change function
in our Online Portal.
Need anymore help? Get in touch!
+49 (0) 30 726215-61
Mo - Thu: 9am to 5pm | Fr: 9am to 4pm