Audiovisual productions
What would films, series and commercials be without music? Fact is: They would lose some of their impact. That is why you also receive royalties for audiovisual productions.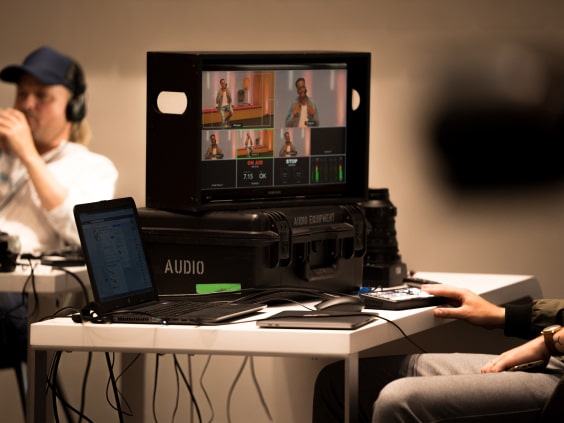 Films, series and more
Is your music used in a film or a series? Find out here how you can register TV, cinema, internet productions and more with us.
Commercials for TV, cinema and internet
You can also send us notifications for commercials and advertising spots used on TV, in cinemas or online.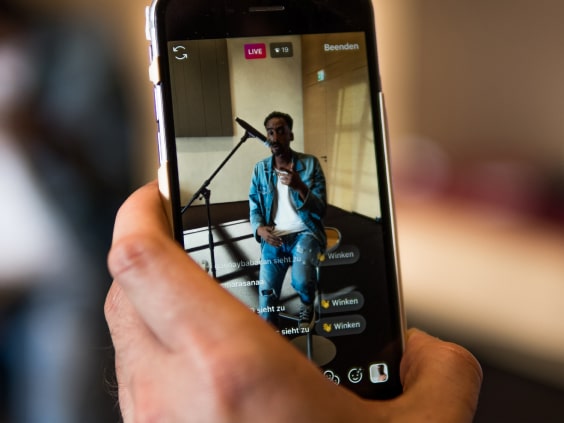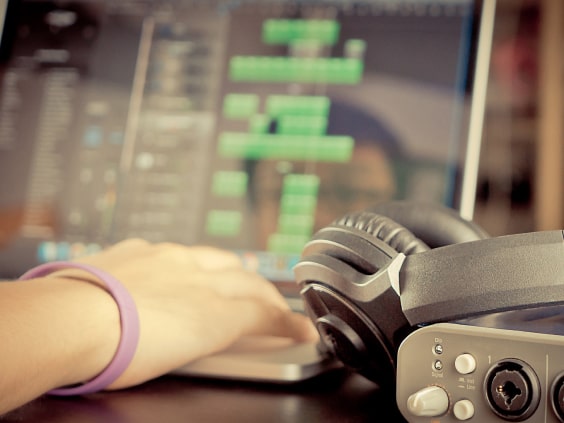 Upload soundfiles
Is your composition used in advertising, on TV, on the radio, in clubs and discotheques or as online content? In that case, upload the soundfile for your work now for audio fingerprint monitoring purposes.
FAQs - frequently asked questions about audiovisual productions
The easiest way for you to register an audiovisual production such as a film or a series including your music is to use the service AV registration in the GEMA Online Portal.
Alternatively, you can fill in the form films and series, sign it and send it to produkte@gema.de .
Original title of the film/the series

Production country

Production year

Producer incl. contact details

Primary exploitation

Musical works used: Title, Music duration, Rightsholder (creator, or publisher, where applicable)

Information on synchronisation rights
Synchronisation rights are applicable when musical works protected by copyright are used in an audiovisual production such as a cinema film or a DVD production.
In cases where licensees, such as cinema producers, want to use a song in their cinema film, they first have to clear what is known as the synchronisation right, i.e. the right to connect the film work with the respective musical work and to put the music into a new context (= audiovisual production) by doing so. Synchronisation rights are also referred to as sync rights.
GEMA members assign synchronisation rights to us pursuant to Article 1 i) (1) of the Deed of Assignment for rights management purposes. We are therefore generally responsible for licensing the synchronisation right to the licensees. The rightsholder, i.e. the creator or publisher of a musical work also has the option to manage the synchronisation rights directly with the licensee. To do this, the rightsholder must first revoke the synchronisation right from GEMA within the deadlines governed by the Deed of Assignment under Article 1 i) (1).
A soundfile consists of:
An audio file of your musical work (only 1 work per audio file, no voice over, no finished commercial)
Metadata of the work and of the recording (work title, work number, creator, commissioned composition?)
The soundfile must be uploaded in the wav format (PCM, 16bit/48 or 44.1 kHz) or mp3 (320 kbps).
As a general rule, please register your work with us and upload the corresponding soundfile using the Online Portal. The soundfile is rather essential if you expect that your composition is used in advertising, TV/radio programmes, clubs and discotheques or online.
Monitoring service providers need your audio file in order to monitor your work. That way, a unique fingerprint of your audio file is created and makes it possible to track it in the usage categories you selected. These are also requirements for creating a usage report.
The AV display only lists AV productions which contain your works and have been fully documented already. An AV production is only documented once we have received a usage report for it.
Since we usually only complete processing AV productions after we have received a usage report for them, it is possible that they are not yet listed in the AV display.
You can also notify us of AV productions if you do not know all of the music titles in the AV production. Simply log in to our Online Portal and use the service AV registration.
In the cue sheet section of the registration form, you will see the question: "Is the entire music content contained in the cue sheet?" Please click on No.
Please remember that you submit the music lists as soon as they are available by e-mail to produkte@gema.de.
Log in to our Online Portal and use the service works registration. Please enter the film or series title as a work title. Now you can upload all the individual cues in the soundfile upload and allocate the same work number for each soundfile.
After that, please register your AV production via the service AV registration. Please ensure that you add the duration of the individual cues in the cue sheet section and to subsume them under the one work number as one musical work. You do not have to enter an individual work number for each cue.
In order to complete the works registration in our
Online Portal
, please click on the link regarding the works registration which was sent to you in your AV confirmation of receipt. All of the already submitted data, such as title and creators, will be taken over once the link is activated. You can now add further works details and once you have submitted the works registration, you will receive the usual works registration confirmation and the works database number.