How GEMA distributes your money
How GEMA distributes your money
Payouts to music creatives in Germany
Thousands of music creatives and music publishers in Germany are a part of GEMA.
As a large creative community, we perceive the rights of our members and ensure that they get paid royalties (income). Simple principle: The more a work is used, the more royalties the artists involved (rightsholders) receive.
Payouts to creatives abroad
Did you know? Music, as it's well known, knows no boundaries. That's why we also pay out income to creatives abroad.

So that this also applies vice versa, we have concluded representation agreements with collective management organisations for copyright abroad. Of course, GEMA members benefit from this, for example, when their works are used abroad.
A heart for culture and social issues
Because we love music, we at GEMA also have our social responsibility close to our heart.
This means that we make 10 percent of the distributable amount in the performing and broadcasting rights sector available for social and cultural purposes. To this end, we have created the GEMA Social Fund: A social compensation fund which pays out benefits in old age, in cases of illness, accidents and need.
Where your contributions go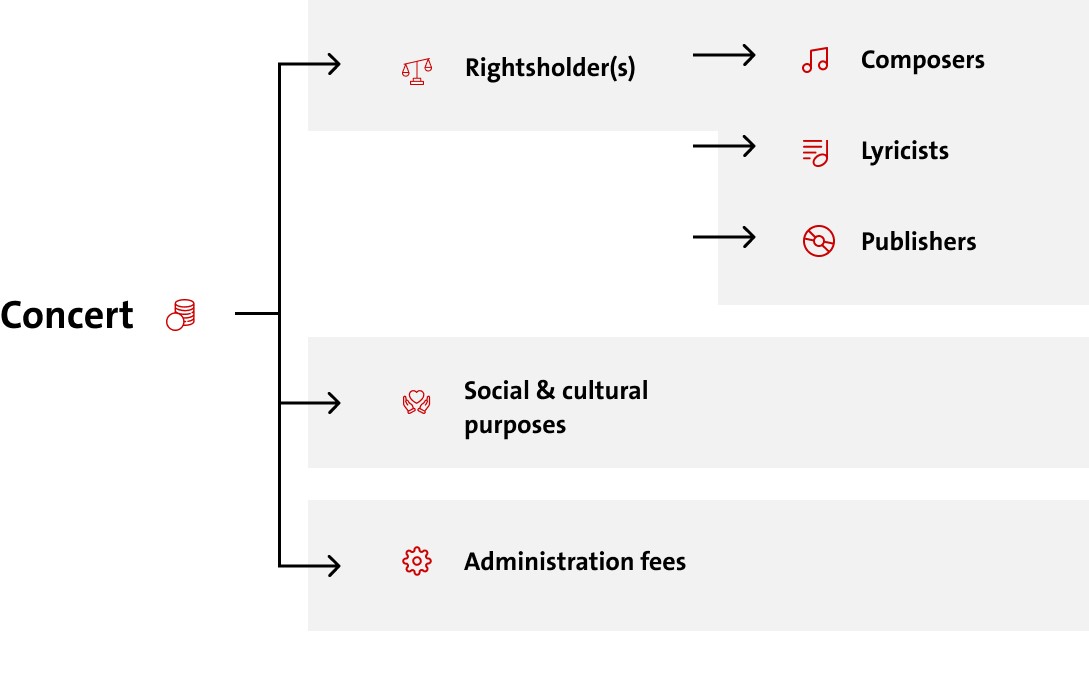 Example
Live concert with pop star
What a stroke of luck for concert organiser Mario! Pop star Irene Angler stops by. Of course, he notifies GEMA of the event. He also submits a setlist with the songs that were performed. Three composers, two lyricists and one music publisher participate in the songs of Irene Angler. Mario sells a total of 20,000 concert tickets. Of course Irene Angler also receives a share of the income.