FAQs about the GEMA General Assembly
Frequently asked questions and answers
FAQs about the GEMA General Assembly
You cannot take part on site and digitally. Instead, you must choose the way you want to take part each year.
So that you can comfortably take part on site, you or your representative need(s) a state-of-the-art Android (minimum Android 10) or an Apple smartphone (minimum iOS14), or a tablet or laptop with the most recent browser version of Chrome, Firefox, Edge or Safari. If you do not have your own device, you can borrow a device on site.

To comfortably take part digitally, we recommend a PC (Windows 10 minimum) or a Mac (MacOS Catalina minimum), including the most current browser version of Chrome, Firefox, Microsoft Edge or Safari, camera and microphone and an internet connection of a minimum of 10Mbit/s download and 5 Mbit/s upload speed. We also recommend that you use a headset. The Internet Explorer is not supported.
The invite to the General Assembly is posted to you six weeks before the event date via the Online Portal or by post – this year from 28 March 2023.
If you have not received your invitation, please write to us by indicating your membership number, your name, your date of birth and your address to mitgliederversammlung@gema.de
Click here to
register online
. Please register there between 5 April 2023 and 5 May 2023 (incl.).
Once you have successfully registered, we will send you an automatically generated confirmation email. Should you not have received that email (pls. also check your spam folder) and if you are unsure whether the registration has been unsuccessful, you can check up on this by sending a message to:
mitgliederversammlung@gema.de
In the course of your registration for the General Assembly, you can also register for the membership party and any other additional pre-event or additional sessions. If you are a representative, you must first register for the General Assembly and enter information regarding who you represent. After you have registered, you can notify us about your attendance in the membership party and the other additional sessions.
Registration has been closed since 06.05, 0:00am (midnight).
Video tutorial (in German)
In this video, we explain how you can participate in the GEMA General Assembly 2023 – both on site and digitally. The video contains information on all interaction options offered by the event system, e.g. requests to speak and voting, as well as on the technical requirements.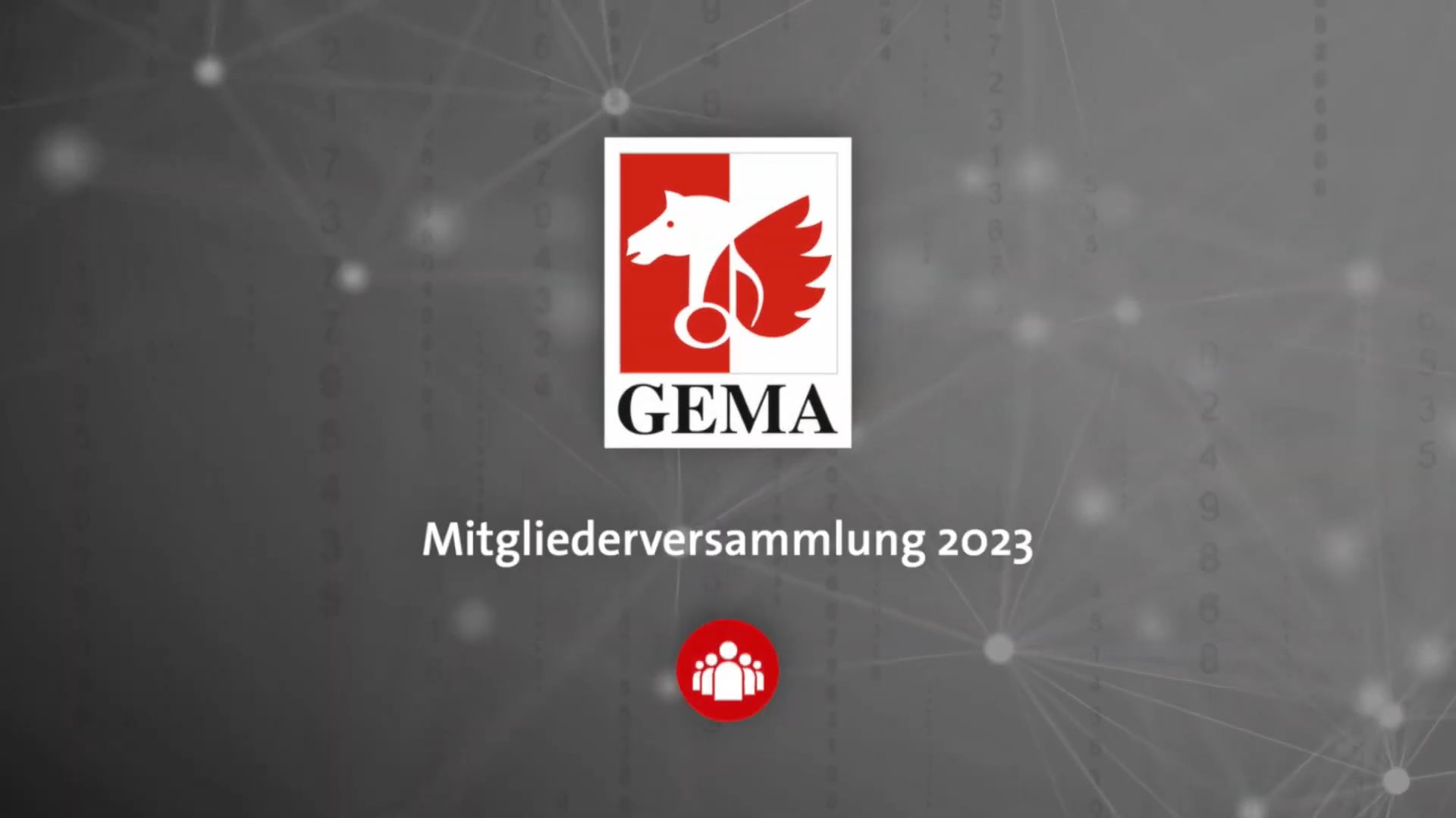 Frequently asked questions about the General Assembly in the help centre
What is the General Assembly and what is the general sequence of events?
Once per year, GEMA members meet in order to decide on future issues of their association ...
Where and when does the General Assembly take place?
The location of the General Assembly is alternating annually between Berlin and Munich; in 2022, it was held as a hybrid event for the first time ...
What is a delegate member and what are its duties?
Delegates represent about 85,000 associate GEMA members in the annual General Assembly ...
All questions regarding your GEMA membership
Still got any questions?
If you have any questions, please feel free to contact us by email at mitgliederversammlung@gema.de.