Video on Demand (Streaming & Download)
Video on Demand (streaming and download)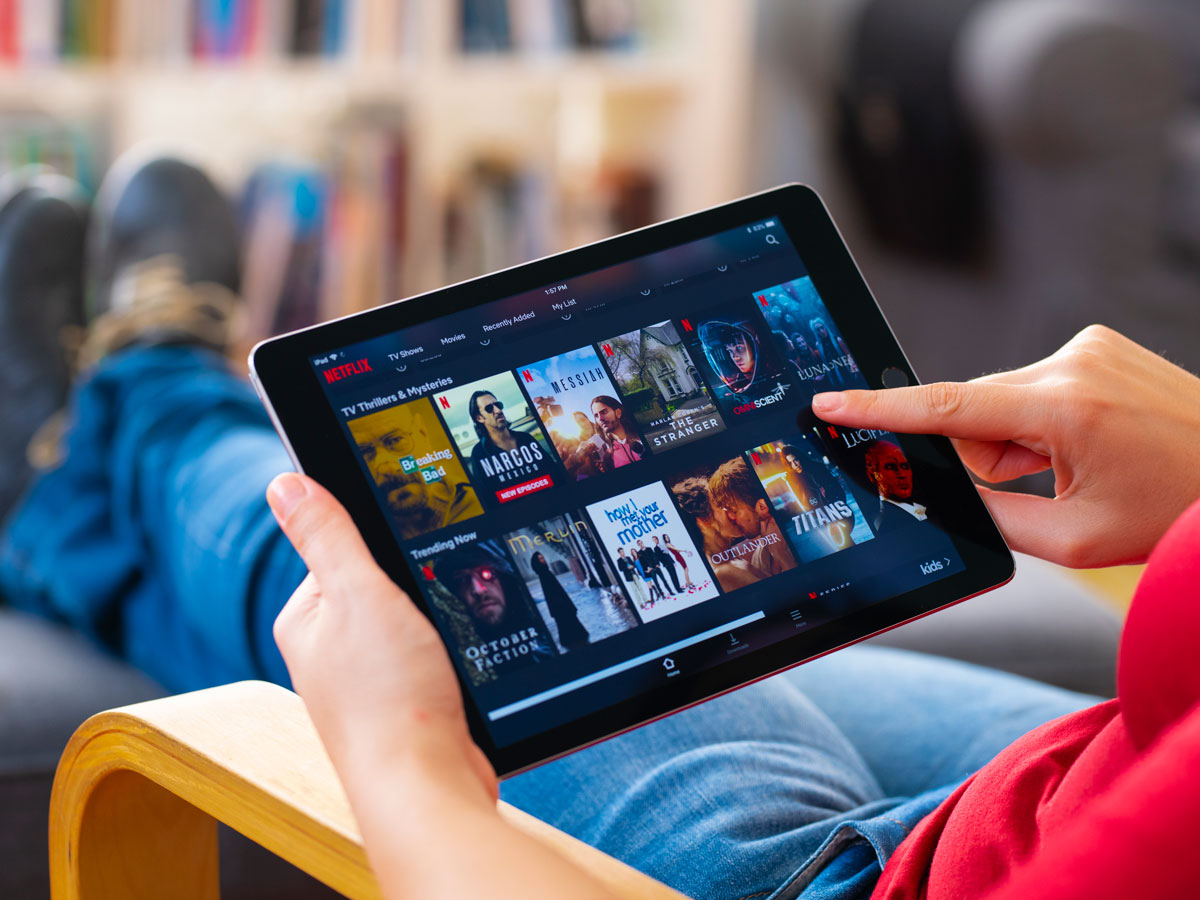 Video streaming: a growth market
We all know Running Up That Hill and I'll Be There for You as the theme songs from the series Stranger Things and Friends, even if not everyone knows who was behind these songs (it was, respectively, Kate Bush and the Rembrandts).

Music is unquestionably a fundamental component of films and series. The recent rapid growth in the video streaming market means the music in films and series is being streamed and downloaded more and more, and our members are reaping the benefit. We distribute the corresponding income under the heading of Video On Demand (VOD).

To learn more about where the income comes from, how we distribute it and when we will distribute your royalties to you, click here.
Video on Demand (VOD): a simple explanation
"Video on demand" generally refers to the option of either viewing a video from an internet platform such as Netflix, Amazon Prime or Disney+ directly (streaming) or downloading it.

The category therefore covers the use of music in films and series that are made available by streaming or download providers. The works used may fall under the heading of atmospheric music, key signature tunes or indeed popular music titles.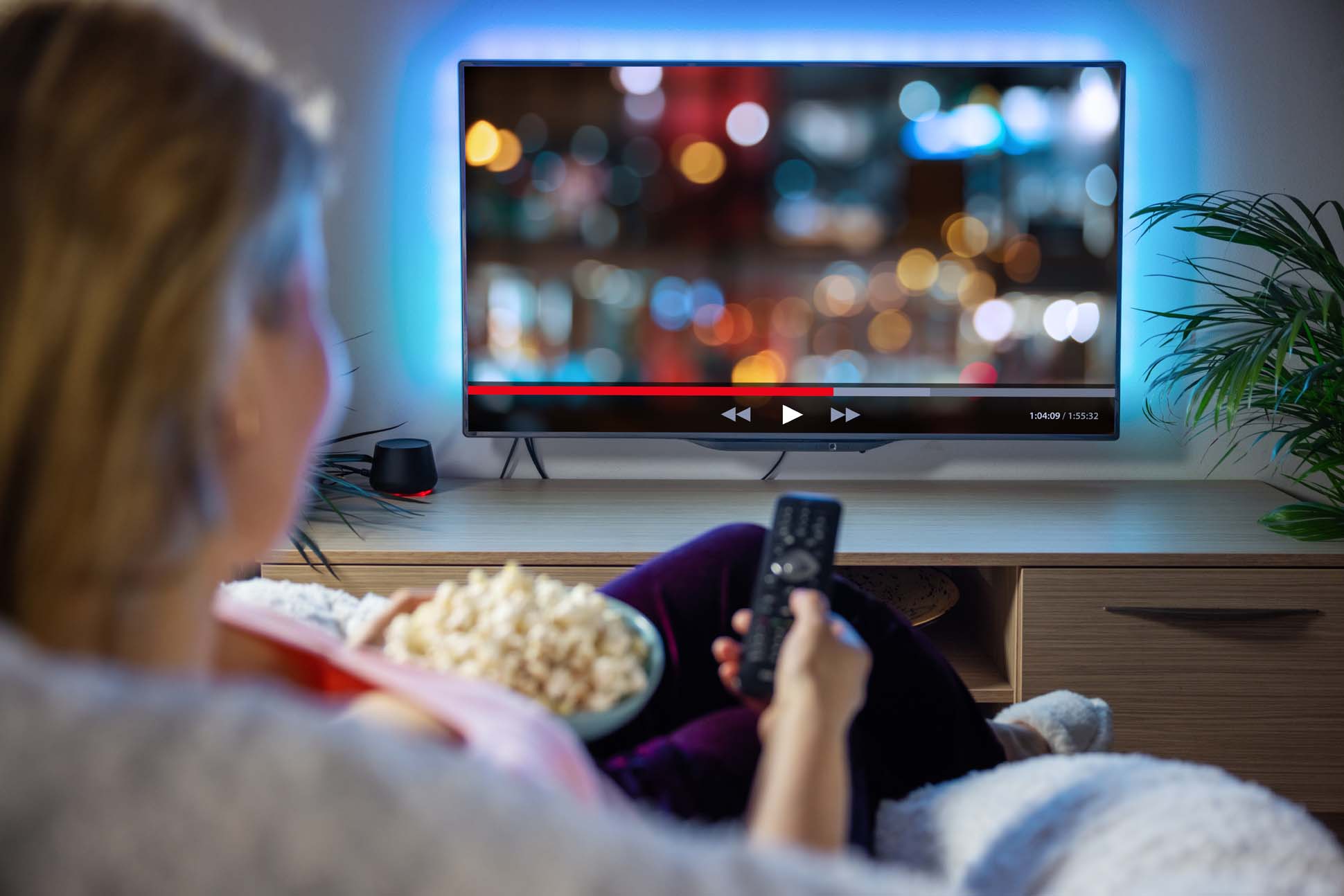 Video on Demand at a glance
How the categories break down:
In the Video On Demand Streaming (VOD S) and video on demand streaming reproduction right (VOD S VR) categories, GEMA distributes income from providers such as Netflix, Disney+ or Amazon Prime for the streaming of audio-visual works.
In the Video on Demand download (VOD D) and video on-demand download reproduction right (VOD D VR) categories, GEMA distributes income from providers such as Amazon Video or iTunes for downloads of audio-visual works.
Demands from abroad are included in GEMA's foreign distribution (divisions A, A VR).
Where the revenue comes from:
The VOD platforms notify GEMA of usage by their customers. Income from streaming providers is received primarily via subscription models, and income from download providers via proceeds from downloads.
The relevant tariff here is VR-OD.
How we know which works have been used:
The download and streaming platforms notify us which films have been accessed and how frequently. We keep a database of our own to tell us which musical works are used in the films. This can be compared with the usage reports from the platforms, thereby forming the basis for our distribution.
How the money is distributed:
We distribute income from the various platforms separately, depending on the type of usage (streaming or download) and the type of access (subscription model, rental or purchase). Distributions depend on the number of times the film or series has been accessed and the length of the musical works used in each respective case.
Income from a rental or purchase (a transactional download) is distributed directly. This means that we distribute the licensing income for each film in respect of the works it contains, minus deductions for the commission and for "SozKult" (social and cultural services).
As regards subscriptions, e.g. Netflix or films from Amazon Prime, distributions are calculated according to a value for each second of access.
You can find more detailed information about distributions in the online sector here
:
Everything about the GEMA distribution in the online category.
Demonstration of form of uses for Video on Demand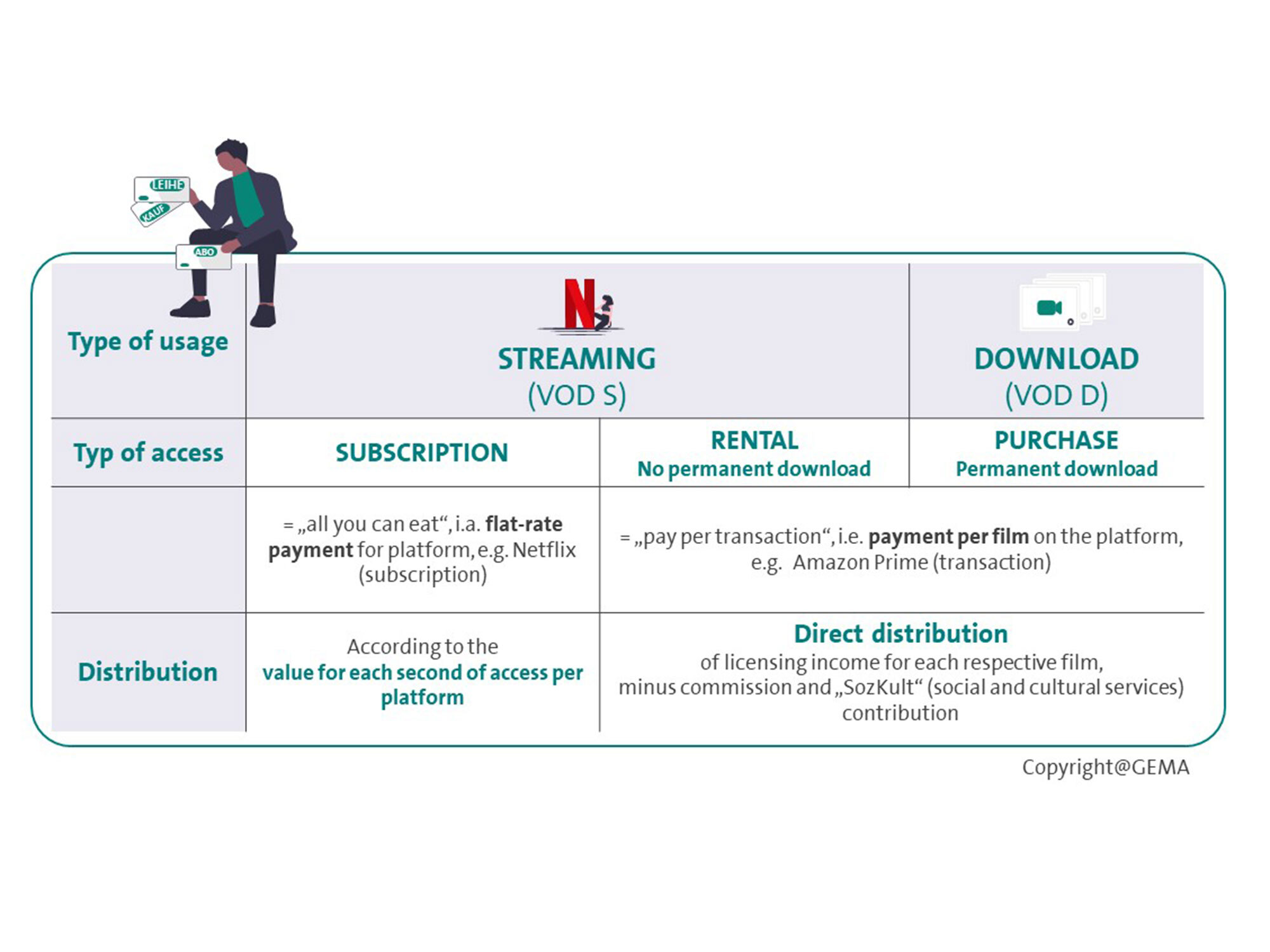 Zoom
Important dates, periods and deadlines
Deadline for work registration:
Ideally, you should register your works with us before the release of the film. We recommend doing so directly via our
Online Portal
. Here, you also have the option of uploading audio files, thereby ensuring that your works are captured by our monitoring service providers.
You can learn more about uploading
sound files
to us here:
Soundfile Upload (gema.de)
Please note:
to ensure that your work can be included in the distribution in respect of a specific use, you must register it no later than one month after the end of the month in which the use took place.

Annual distribution cycle:
We make distributions twice annually, on 1 April and 1 October.

Claim periods:
You have three months to claim following the distribution. You can learn how this works, and what you need to know in order to proceed,
here
.