GEMA Ausschüttung fehlerhaft: Was kann ich machen?
More questions? Search here:
My pay-out is not right, there are dates missing, or the number of works is incorrect. What can I do?
You can submit a claim for an incorrect pay-out quickly and easily using the following options:

You log in to the Online Portal and use the service here.
For missing live events, use the service My setlists in the Online Portal where you can submit your setlists in the form of a claim.

Important: Before submitting any claims, please check whether a distribution has already been made for the period (see pay-out dates) and category. Please only claim such uses which are not included in your detailed statements or need to be claimed for other reasons.

Pursuant to §59 of the GEMA distribution plan, claims must contain specific details which permit a verification. You ensure that this is the case by providing the requested details in the Online Portal under Claims or by completing the respective form provided for the corresponding usage category.

Good to know: You can access details of your royalty distribution, i.e. detailed statements (individual statements and usage lists) of all distributed music usage and check them against your own files under the service GEMA Download on the Online Portal.

Don't have access to the Online Portal yet? Find out here how to register.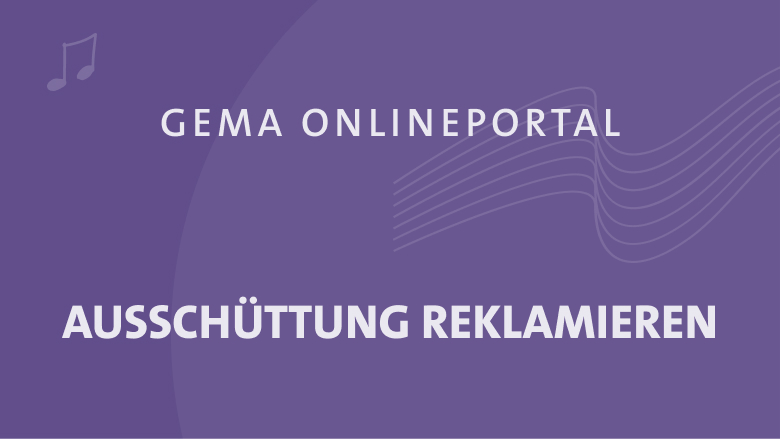 Es sind noch Fragen offen, die durch das Tutorial nicht beantwortet wurden? Dann schauen Sie doch auf unserer Reklamationsseite vorbei. Hier haben wir alles Wissenswerte rund um das Thema Reklamationen für Sie zusammengefasst.
Für den Fall, dass Sie das Onlineportal nicht nutzen können, sprechen Sie uns einfach an. Unsere Kontaktdaten finden Sie unter "Wer sind meine Ansprechpartner".
Weitere Informationen sowie alles Wissenswerte rund um das Reklamieren in den jeweiligen Sparten finden Sie hier.

Gut zu wissen: Im Onlineportal können Sie unter dem Service GEMA Download Details zu Ihrer Tantiemenverteilung, d. h. Detailaufstellungen (Einzel- und Nutzungsaufstellungen) aller abgerechneten Aufführungen bzw. Sendungen einsehen und mit Ihren Unterlagen abgleichen.
Need anymore help? Get in touch!
030 726215-61
Mo - Thu: 9am to 5pm
Fr: 9am to 4pm